When it comes to exercising, we often times don't feel that we have the time each day to fit it in. We don't necessarily need to go to the gym for hours each day to get a good work out, but finding a few minutes each day to do some sort of physical activity will greatly impact our health for the better.
Why it's Difficult
Granted, it used to be much easier for the average person to get the work out they need. As the years go by it has become increasingly easier to not only become less healthy, but to become obese. There are much more jobs available that do not require physical labor. This means that we have to make the effort to fit it into our own schedules every day - something that most Americans are opting out of.
It is true that most Americans are not getting enough exercise every day, but there are ways to get it done that will fit into your day. Even just a minimum of 30 minutes a day can make a difference in your life and health.
What to Do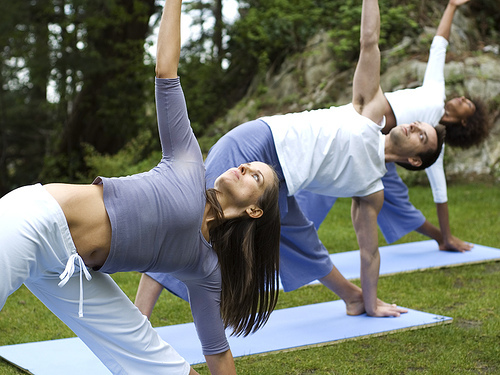 It can be surprising just how many calories you are capable of burning while just walking. The faster and further you walk the more calories you can burn. The more you do it the easier it becomes and you can build yourself up to even start running. If running sounds like an absolute bore, you can find more fun ways to exercise by playing games and sports with friends. Another alternative is to try yoga or stretching to get your body more flexible and active.
In the end, anything is better than nothing, and the more you practice it the more you can make it a daily habit that will make you much healthier and extend your life.
photo credit: myyogaonline via photopin cc