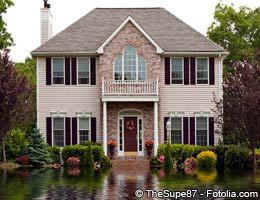 Only about 20 percent of homeowners carry flood insurance, and the majority of those who do are required to because they live in a federally designated flood zone. So why do so many people decide to go without flood insurance?
First of all, it's a good idea to clear up some common misconceptions about flood insurance.
What Exactly Is Flood Insurance?
Flood insurance is separate from your regular home insurance policy. For one thing, it's run by the federal government, through the National Flood Insurance Program (NFIP).
There is a difference between a flood and water damage. A flood is defined by the NFIP as, "A general and temporary condition of partial or complete inundation of two or more acres of normally dry land area or of two or more properties (at least one of which is your property) from overflow of inland or tidal waters, from unusual and rapid accumulation or runoff of surface waters from any source, or from mudflow."
Basically, a flood is a large event that affects at least several acres or at least two properties. Water damage is everything else—busted water pipes, rain that gets through a hole in the roof, etc. Your home insurance policy may cover water damage, but you won't be protected in the case of a flood unless you have extra flood insurance through the NFIP.
Is Flood Insurance Really Necessary, Even if I Don't Live in a Flood Zone?
Over a quarter of homes that experience flood damage are located outside of the federally designated high-risk flood zones. That's because there are virtually zero homes in the U.S. that are completely safe from floods—torrential rain and extreme weather conditions can strike anywhere.
If you live in an area with a low risk of flooding, then the good news is that you'll pay much less for coverage than someone who lives in a high-risk zone.
Contact us today to find out how we can help you protect your home with flood insurance.