Thieves are more actively "shopping" as well around the holiday season. Here are some tips to avoid / reduce potential losses: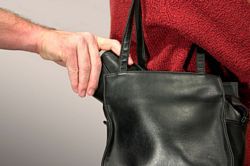 DELIVERY: Industrious thieves follow the UPS / FedEx trucks this time of year, and watch to see if they leave packages unattended on your front doorstep. When ordering request "signature required" for delivery. This way they wont leave it unprotected. Other options: include sending gifts direct to the recipient, or where you work.
CARS: Never leave your purchases in your car while shopping. If you need to, a great suggestion is to drive to another side of the mall and park. Thieves look for people to leave their purchases unattended and break in your car once you walk back inside the mall.
LAPTOP LOJACK: Pay the extra money and purchase lojack for your new laptop. It is inexpensive insurance! You will most likely get your laptop back and the thieve in Jail. It also has an option to protect your data by erasing the hard drive.
SMARTPHONES: Have a new phone – Many new phones have a lot of personal information and data on them. Check out tracking devices and data erase capabilities - Some are free and others well worth the money!
SHOPPING: When shopping take only what you need in your purse or wallet. Take a little cash at a time and only the credit card you plan on using. If your purse or wallet is stolen, it is easy to replace the card then everything that we normally carry.
CREDIT CARD: Some credit cards will pay if a recent purchase is stolen, broken, or even extend the warranty. Check out your card(s) to see if they have one or more of these features.
OTHER TIPS
- NEVER!! Carry around your social security card!
- Monitor bank and credit card statements.
- Beware of people lurking nearby. If they look like they are up to no good, they most likely are.
Happy Holidays!