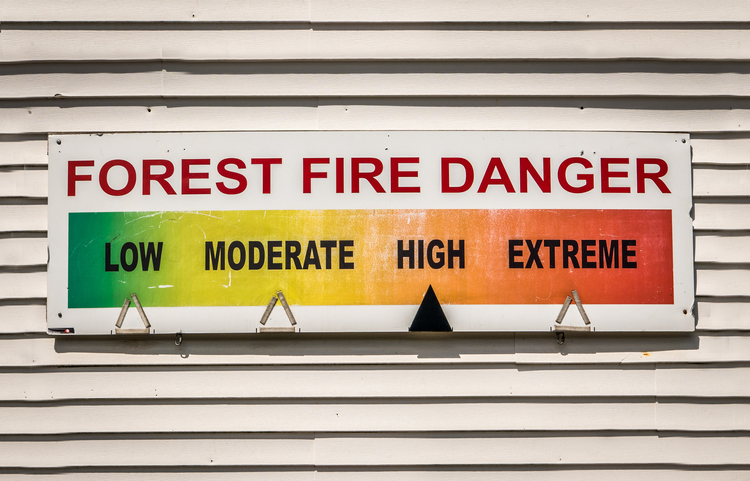 If you live near the mountains, forest, or fields and don't already have wildfire coverage, there's no better time than today to get the coverage you need. More than 3.5 million acres have burned across the country in 2020 alone, according to the National Centers For Environmental Information. This record-breaking statistic should be enough to convince you that wildfire insurance has never been more essential.
Stats about Wildfires in America
Californians are especially at risk of facing a wildfire in their area—but in reality, a wildfire could happen anywhere. In fact, Congressional Research Service reports that there have been an average of 64,100 wildfires every year over the past decade, with about 6.8 million acres burning annually.
These fires aren't just burning in remote wilderness, either: Unfortunately, more than 2,500 houses burn down in wildfires every year in America. Many of these fires are accidentally started by people, but others start up due to natural causes such as lightning, extreme heat, or dry weather.
Why is Wildfire Coverage So Important?
Wildfires often happen swiftly and unexpectedly, leaving people little time to pack up their treasured belongings or make any attempt to protect their home from damage. This is why wildfire coverage is so important: it offers security in the face of uncertainty.
Verisk's Wildfire Risk Analysis report states that more than 2 million homes in California are at serious risk of being in the path of a wildfire. Your home may be one of them. Are you prepared?
What You Need to Know About Wildfire Coverage
Depending on the policy, wildfire insurance may cover the cost of rebuilding the home or even the cost of living while out of a home that is being repaired. Here are some of the most common coverages in a wildfire insurance policy:
Fixing a home damaged by wildfire
Rebuilding a home
Replacing damaged belongings
Temporary housing while a home is being repaired or rebuilt
Living expenses while out of the home
Most wildfire coverage also pays for replacement or repairs of landscaping like trees and shrubs, or other structures on your property, such as sheds and pool houses. Wildfire coverage isn't just for homes that have burned up in flames, either: they usually cover damage from smoke and soot alone.
Get Wildfire Insurance Today
If you're not sure where to turn for the best wildfire insurance, contact Insurance Center Associates today. As experts in all types of insurance, we provide affordable wildfire insurance policies to give you peace of mind, even if you have the misfortune of facing a wildfire in your area.
Our policies will allow you to repair or rebuild your home, and live comfortably while you wait for the new home to be finished. Get in touch for a free wildfire insurance quote.