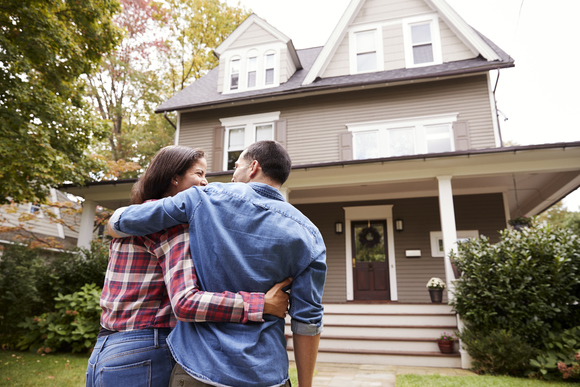 Homeowners insurance premiums, the amount you pay monthly or yearly, can vary widely depending on things like the value of your property and possessions, your deductible, and even your pets. If you want to get an idea of how much your homeowners insurance will cost, start by asking a few questions:
What do you want to cover?
Water damage or flood? Earthquake? Identity theft? Art? Jewelry? There are a number of options that can be added to your homeowners insurance policy and may be less expensive than if you got them separately.
How much can you afford to pay for yourself?
If you can afford to pay for small losses yourself, you can cut your insurance bill. A deductible is the amount you pay before the insurance pays out. A higher deductible means lower premiums, and a lower deductible means higher premiums.
How much are your home and property worth?
If you had to start over after a total loss, how much would it cost you?
You can start figuring it out by looking at the value stated on your latest property tax notice. Next, inventory your items and keep a backup inventory in a safety deposit box or other location away from home.
There are a host of apps for creating a home inventory, some with free cloud storage, but be sure to keep a backup in a non-cloud source. It's not unknown for police or other agencies to seize cloud service storage servers in a criminal investigation, bankruptcy, or other circumstance, and cloud storage can be hacked. Flash drives are an inexpensive source of storage and fit nicely in a safety deposit box, just don't forget to print out a hard copy.
Once you have an idea of replacement costs, you can decide on a payout limit, or how much you want to insure your home for. The higher the payout limit the higher your premium will be.
What other factors should you consider?
What type of home do you have (single family, duplex, condo, vacation home, mobile home, etc…)?

What kinds of safety features do you have, like deadbolts, smoke detectors, and fire suppression, including fire extinguishers or sprinklers?

What kinds of discounts will the insurance company offer for safety features?

Do you have an exotic pet or high-risk dog? Note that there's no master list of high-risk dog breeds. Each insurer has their own list, and some states restrict or regulate insurance profiling of breeds.

Do you have a swimming pool or trampoline?

What is your credit score? Will the insurance company give you a discount as your credit score improves?

Do you have several policies you can bundle with the same company?
About Insurance Center Associates
Talk with Insurance Center Associates for expert help in choosing the right insurance company with the right coverage for you. We've been providing home insurance in Torrance since 1933, that's 85 years of excellent customer service in California and beyond. Call today!