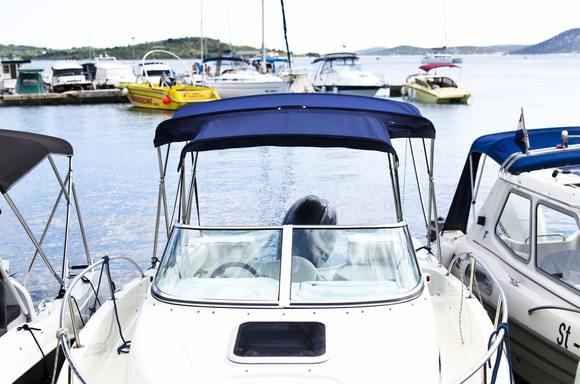 You've finally purchased that boat that you've been dreaming about for a while, or maybe you're ready to take your boat out of storage now that warmer weather has arrived. No matter the situation, you'll want to make sure your boat is fully equipped with the right safety equipment and make sure that you are prepared for any situation you may come across while on your boat. We at Insurance Associates Center want to make sure that you are fully prepared for anything. That is why we have compiled a boat safety equipment checklist to give you a helping hand.
1. Life Jackets
All boats, regardless of the size, must carry a Type I, II, III, or V Coast Guard approved life jacket for each person on board. Life jackets must be in good condition, readily accessible and must fit the person who will wear it. Vessels that are larger than 16 feet must also have at least one Type IV throwable device on board.
2. Navigation Lights
All vessels must display navigation lights between sunset and sunrise and when visibility is restricted. Some navigation lights that may be used include:
An electric torch

A white light lantern

A tricolored

All-round green and red lights
These signal lights help to avoid collisions and keep you safer.
Sound Signaling Devices
All boats must have sound signaling devices in case of an emergency. Smaller vessels can use a whistle or bell to alert others and bigger boats must be able to have a device on board that will make an efficient sound signal.
Fire Extinguisher
When your vessel does not carry a fixed fire extinguishing system aboard, a type B-I Coast Guard approved fire extinguisher must be purchased and on board at all times.
Visual Distress Signals
Visual distress signals are required for vessels occupying coastal waters only. All boats over 16 feet are always required to carry devices. The following devices may be used:
Hand red flare
Floating orange smoke
A red hand-held rocket-propelled parachute
Hand-held orange smoke distress signals
Orange flag
Electric distress light for boat
Insurance
While the final point on this checklist is not equipment, insurance does help you feel safer. Insurance Associates Center can help you find the best boat insurance that will suit all of your needs and budget. Just tell us what you are looking for in your boat insurance policy and we can find the best deal for you.
All boats are different and require different types of safety equipment, so why not choose an insurance company that will give you the right boat insurance that suits your boat and requirements? Give us a call today, and let us help you feel safer.