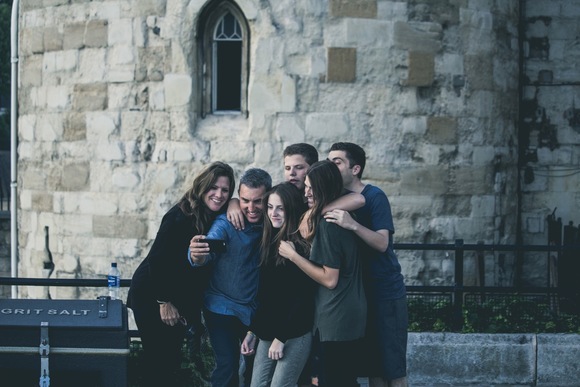 Being surrounded by family during the holidays brings a feeling of togetherness and celebration that not much else can match. Get yourself and your home ready to greet your guests in the spirit of welcomeness and love by prepping and planning beforehand.
Getting Them There
The trickiest part about getting together for the holidays is the cost of travel, especially when those costs are added on top of gifts. Don't let tight budgets keep the family apart during this special time of year. Here are a few tips to help:
Book flights, hotels, and rental cars early! Choices get more and more limited the longer you wait.

Try and get extended family members to chip in for flights or gas money and hotels. It can even be done in lieu of other holiday gifts.

Donate airline or hotel points so flights can be booked at a discount or for free.

Meet somewhere in-between to cut travel costs in half.

Make meals at home and split the cost rather than eating out at restaurants.
Practical Preparations
In order to truly be able to relax and have fun while family is in town, it is wise to make a few practical preparations ahead of time.
Meal plan and do all the shopping. Don't waste precious time running errands while everyone is hungry. Instead, make a list and check it twice! Inquire about any dietary restrictions in advance and do your best to accommodate them. Stock the pantry with lots of snacks. You'll be surprised how fast you will go through them!
Have plenty of Tylenol and Tums on hand. You never know when a headache or an upset stomach might show up, dampening the holiday festivities.
Call your insurance agent to be sure you have the proper homeowners insurance coverage in the event of a guest experiencing a fall or other accident inside your home or in your yard. While you're at it, check your health insurance policies as well for that extra peace of mind.
Comfortable Considerations
When family has traveled a long way to come to stay in your home, you want to make them as comfortable as possible. Clean all public spaces and closets (or hire a housecleaner).
A private guest bedroom is always welcomed by visitors, at least for the adults. Kids are usually more than happy to bunk with cousins, on the couch, or even in sleeping bags on the floor. It's fun!
A private bathroom with a shower is also a welcome site to your guests. Provide toiletries in case they forgot to bring theirs and offer plenty of fresh towels. Don't forget to stock up on toilet paper!
Give your guests your wifi password and any appliance instructions (burglar-alarm system, remote controls, etc.). Consider their input on the thermostat setting or provide a space heater or fan.
Provide your guests with an acceptable parking spot. Keep your driveway and sidewalks free of snow and ice.
Fun for the Whole Family
Celebrate the season with fun activities and events geared toward everyone in the family. Look for seasonal exhibits at museums, Santa sightings, holiday-themed movies at the theater, Christmas light and nativity displays, skiing, choir performances, and more. Check sites like Groupon and CityPASS for local discounts.
If you're looking to stay close to home and enjoy quality time together as a family, how about a game night, talent show, or cooking competition? You could create your own menorah, take silly family pictures, go sledding, make gingerbread houses, ornaments, or wreaths; the possibilities are endless!
Don't forget to think outside your own family and look for volunteer opportunities in your community. There is plenty of need during the season and there is always something anyone at any age can do. Search for opportunities at VolunteerMatch and United Way.
If possible, do all of your itinerary planning before your guests' arrival. That way, you can all get straight to the fun rather than discussing options and trying to come to a consensus while the time is ticking away.
With these things in place, you're sure to have a happy holiday season, surrounded by those you love.