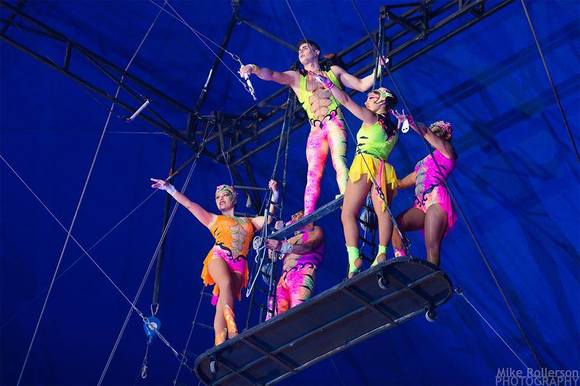 It's that time of year again when ghosts and goblins come knocking and the smell of turkey and pumpkin pie fill the air; when Santa Claus visits and gift are exchanged, and when New Year's resolutions are made and calendars are changed. That's right - the holiday season is upon us!
Though San Pedro may not have the icy cold weather that indicates the arrival of this beloved season (we don't think that's a bad thing, though), there are tons of sights, activities, and attractions throughout the area that can help you celebrate the holidays the right way. Get excited about this joyful season by checking out these seven activities for optimal holiday fun in San Pedro.
1. Happy Harbor Halloween
Sponsored by the Port of Los Angeles, this Saturday afternoon Halloween party offers a slew of family-fun entertainment. The day starts with a Halloween-themed Pet Parade from 10-11 am where furry friends of all shapes and sizes show off their creative costumes. Following the parade, the public is invited to attend a free party featuring a costume parade, music, puppets, arts and crafts, face painting, games, reptiles and much more. The Topsail Youth Program is offering complimentary guided tours of the tall ships lining the LA waterfront.
When: Saturday, October 29 from 10 am to 2 pm

Where: Two locations - On the Promenade along Harbor Blvd. from 3rd to 5th Streets and At the Wilmington Waterfront Park at C Street, Lagoon Ave., Harry Bridges and Figueroa Blvd.

Cost: Free
2. Cabrillo Marine Aquarium Sea Scare
The Cabrillo Marine Aquarium gives visitors a spooky twist on sea life by creating an underwater world of thrills, chills, and gills. This annual event is bringing back family-fun classics like the Trick-or-Treat Trail, Seaside Boardwalk, the Sea Scare Party Zone, and Skull Alley. With activities like a haunted house, pirates and treasure hunt, sea creature feedings, cryogenic demonstrations, spooky stories, fortune telling, magic, games, bioluminescent crafts, dancings, a costume contest and much more, the CMA Sea Scare is a must-do for anyone in the San Pedro area.
When: Saturday, October 29 from 7-10 pm

Where: Cabrillo Marine Aquarium, 3720 Stephen M. White Dr. San Pedro, CA

Cost: $7 for adults; $3 for kids ages 1-12
3. Circus Vargas presents iLUMINOUS
Voted the best circus by sandiego.com, Circus Vargas captivates audience members with a high-energy performance that brings to life the wonders of the modern world and the imagination of anyone who's a child at heart. The all-new iLUMINOUS performance features death-defying stunts, flying aerialists, exhilarating acrobats, and gut-busting clowns. Come 45 minutes before the start of the show and check out an exciting, interactive pre-show experience where kids of all ages can try their hand at circus magic. Following the show, visit and take pictures with performers and become part of the Circus Vargas family.
When: November 3-7, 2016

Where: Ports O' Call Village, Sampson Way & 7th Street, San Pedro, CA

Cost: visit circusvargas.com for showtimes and pricing
4. A Very Special Holiday Special by Mark Harvey Levine
Get in the holiday spirit with a night of enthralling tales and splendid theatrical performances. With storylines ranging from a talking Christmas tree and Grandma's visit, to the baby in the manger and the sons of Israel watching a flame, you're sure to enjoy this fun-filled evening of holiday theatrics written by the talented playwright, Mark Harvey Levine.
When: November 11 - December 17 with shows at 2 and 8 pm

Where: Little Fish Theatre, 777 S. Centre St., San Pedro, CA

Cost: Regular - $27.00; Senior - $25.00
5. 36th Annual Spirit of San Pedro Holiday Parade
Welcome in the holiday season with the 36th Annual Spirit of San Pedro Holiday Parade. This festive tradition features the faces behind the San Pedro community, with families, little leagues, scouts, students, high school bands, equestrian units and volunteers all contributing to make the parade great. Every year more than 9,000 people come out to see this unique, heartwarming spectacle. Presented by the San Pedro Chamber of Commerce, this annual parade is a valued community event.
When: Sunday, December 4 from 1 to 3 pm

Where: Downtown San Pedro

Cost: Free
6. Los Angeles Holiday Harbor Afloat Parade
Come see the 51st Annual Holiday Harbor Afloat Parade for a nautical twist on holiday tradition. More than 50 boats parade down the Port of Los Angeles Main Channel, displaying tactful decorations and brilliant lights that get you in the holiday spirit. Fun for the whole family, the Holiday Harbor Afloat Parade features boats of all shapes and sizes - from powerboats and sailboats, to tall ships and harbor crafts, there's guaranteed to be a bit of something that everyone will enjoy.
When: Saturday, December 3 from 6-9 pm

Where: The parade start at East Basin near the Banning's Landing Community center in Wilmington and travels up the Port's Main Channel ending at 200 Whaler's Walk in San Pedro.

Cost: Free
7. New Year's Eve Yacht Party
Welcome in the new year like never before with the New Year's Eve Yacht Party. Climb aboard the luxurious 140-foot Majestic Yacht and spend the evening exploring the vessel's three different floors, expansive outdoor decks, and swanky lounges and get your groove on on either of the ship's two dance floors. The four-hour cruise through San Pedro harbor offers a champagne greeting, a premium all-night open bar, an appetizer buffet court, party favors, and live entertainment.
When: December 31, 2016, from 8:30 pm - 1 am

Where: 200 Nagoya Way, Berth 77, San Pedro CA 90731

Cost: $140-$165 (must be 21+ to participate)
With all these fun things to do, you've got 7 enticing reasons to spend the holidays in San Pedro!
Picture credit via Circus Vargas Facebook