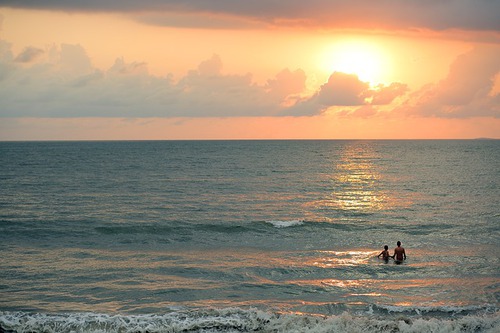 Swimming in the ocean can be invigorating, but it is also a little bit dangerous. Follow these tips to stay safe and enjoy your ocean swim.
1. Learn About Rip Currents
Powerful rip currents can quickly catch someone off guard and carry them away. Permanent rip currents are more common near piers and jetties so avoid swimming in those areas. If you are caught in a rip current, resist the urge to fight it. Stay calm and swim parallel to the shore until you are out of the rip current. Once you are out of the current—then start swimming toward the shore. If you don't think you can make it to shore, tread water, yell, and wave your arms to attract attention and get help.
2. Respect The Wildlife
When you swim in the ocean, you're in someone else's home. Respect the wildlife in the area to keep yourself and the animals safe. Shark attacks are extremely rare, but you can reduce the risk further by swimming during the day instead of at night, keeping your pets out of the water, and staying out of the water if you're bleeding (which is usually smart anyway).
Stingrays and jellyfish are more practical dangers to worry about. Avoid painful stings by staying out of the water when it is recommended, and shuffling your feet in the sand to warn buried sting rays of your presence before you walk further into the water.
3. Use The Right Equipment
Don't use toys as flotation devices, and wear a wetsuit when appropriate. Using the right equipment will help you stay safe.
4. Don't Swim Alone
Always swim with a friend. This significantly increases your chances of staying safe. It is also smart to swim in an area patrolled by lifeguards, since these experts are trained to recognize signs of drowning and quickly administer help.