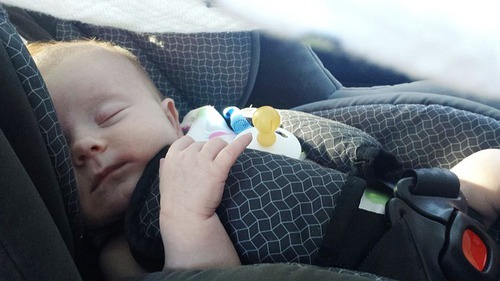 For new parents, nothing is more important than making sure your child is safe. In today's fast-paced world, having the proper vehicle is essential for keeping your family happy and whole on the road. Whether you have months to prepare or need to make a fast change, we've got the top ten best cars for new parents.
Mazda 3
The Mazda 3, while a smaller car, has consistently ranked as one of the best cars on the road and offers enough space in the back for two car seats. Newer models even come with improved safety features, such as rearview cameras to help you back-up and brake assist systems to help prevent you from crashing.
Ford Explorer
The Ford Explorer is the type of car that offers ample room for your family to grow. The extra seating rows offer plenty of room for diaper bags, strollers, and car seats. The driver and passenger seats have also been noted for their comfort and luxury, helping to keep parents at ease even in the most hectic of situations.
Toyota Prius
The Toyota Prius has an excellent fuel economy rating, making it the perfect fit for parents on the go. With everything else you need to purchase, saving on gas will go a long way for you and your new family. The Toyota Prius also has extra storage space, which means you'll be able to bring everything you need without hassle.
Chevrolet Suburban
If you still want some power behind your car, consider a Chevrolet Suburban. It's got a powerful V8 engine while still maneuvering smoothly. It has even been rated one of the best larger SUVs for families. The Chevrolet Suburban, in spite of its power, has also been reviewed to be a very quiet car, making it perfect for your little one's naps.
Volkswagen Golf
The Volkswagen Golf has plenty of room without a lot of bulk. The cargo space available in the Volkswagen Golf allows you to bring everything you need without the bulk and weight of a larger car. It has also received a top safety rating and was voted one of the best compact cars for families.
Subaru Outback
The Subaru Outback is the perfect balance between a larger SUV and a smaller sedan. You get the fuel-economy while still maintaining the space. The interior design is also essential to the Subaru Outback's benefits; the low step-in height means you won't be crawling through the car to get your child in or out.
Honda CR-V
The Honda CR-V is rated number one in affordability for compact SUVs, so if you need to save some money but still feel confident in your purchase, this is the car for you. Reviews also note that there is spacious room in both the front and the back of the Honda CR-V.
Kia Soul
The Kia Soul is a great mix of luxury and dependability. It balances out space, safety, and reliability while looking sleek and sporting a popular hatchback design. The touch screen options available in newer models will also make things easier on new parents who already have their hands full.
Hyundai Santa Fe
With the Hyundai Santa Fe, you can pick models with two or three rows. This versatility is perfect for those families looking to expand in the near future. Forward visibility is also rated high in the Hyundai Santa Fe, which will help you drive safely with your child in tow.
Honda Odyssey
If you're looking for a true minivan, don't look any further than the Honda Odyssey. Many models come with a built-in vacuum cleaner and captain seats in the second row. This provides extra room for your child and everything else you need while making clean up a breeze.
For more information about how to find the best car for you and your growing family, don't hesitate to visit us today! Our friendly team looks forward to helping you in any way we can.