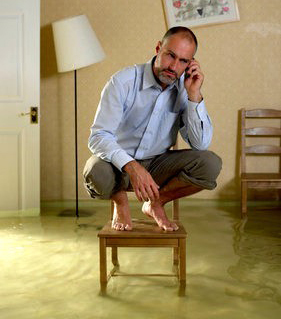 Stop the water! Shut off the main water valve immediately. It's not a bad idea to make sure everyone in your home knows where the shutoff valve is located.
Remove area rugs from the floor. The dyes in the carpets can stain your flooring.
Clean up as much water as possible, this will help prevent further damage.
Start the drying process in your home by strategically placing fans to effectively circulate the air. The first 24-48 hours are the most important after a pipe burst or indoor flood.
Prevent electrocution. Do not use any electrical appliances if your floor or carpet it wet.
Turn off your utilities. To ensure your safety, turning off your gas and power might be necessary.
Don't throw anything out. Your claims adjuster will need to inspect the damaged items.
Save your receipts for any rental equipment, repairs, or payments made to professional services.
Photo credit: http://www.superbrestorationservices.com/