Spring Freedom: Motorcycle Safety Reminders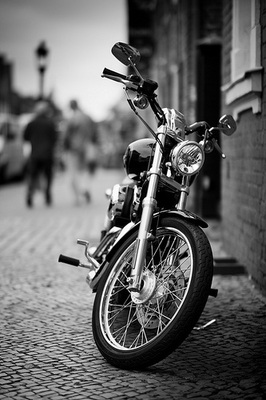 Winter has been renounced and spring welcomed in. To some, this means flowers, bright colors, and cleaning schedules will soon be filling their days. To others that know better, it means it's time to wake up the bike, tune it up, and hit the road again. For 3 long months, it has hidden in the garage for fear of the slippery roads. The beasts are ready to be unleashed again though. As you prepare to hit the road for your first ride of the season, dust off the old handbook of safety tips to keep both your bike and body free from the dangers of the road.
Tune up the bike
Make sure the bike is working optimally before you hit the road again. The last thing you want is a sputtering engine or tire blowout at the furthest point of your 50 mile ride. Make sure it's working right about a week or two before your first big trip.
Dress for the occasion
Baggy jeans, thick boots, and leather gloves aren't just a fashion statement, they're a safety precaution. Wear long sleeves, thick foot and hand protection, and U.S. Department of Transportation approved helmet.
Drive like your life depended on it
In reality, your life does depend on it. You are small on your bike, you hide in blind spots, and unless you have a muffler the size of a cannon, people often don't know you're there. Be a very defensive driver and make an effort to be seen in all situations.
Drive the speed limit
The joy of riding is not the destination, but the way you take to get there. Drive the recommended speed limit and try not to speed. You'll enjoy the view better that way without fear of extreme accident or speeding ticket.
Dust off that bike, tune it up, and free yourself from your 3 month prison. Your debt to winter is paid. It's time to explore the world again. Just be safe while you do it.