Boat Safety Tips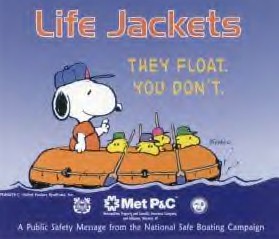 Summers are hot and sweaty. The only solace you can often find during the hot week is that you are just a few minutes away from an air-conditioned room, or you are only a few days away from that boat trip you've been planning.
Boats are a wonderful way to escape the heat. They can jet you across the water at breathtaking speeds, then dump you into the water the next second if you so choose to take a break from the baking sun. Nothing beats the heat like dousing yourself in the fresh, cold water of a lake. Boats are extreme recreation tools that make it easier to enjoy the summertime. They can sometimes be just as dangerous as they are fun though. You need to be prepared for that danger by being safety conscious.
Wear a Safety Jacket
Should an accident happen on your weekend, you will more than likely end up in the water. Should an accident injure you in any way, your life jacket might be the only thing that can keep you afloat. This is especially true for those that are knocked unconscious for a few minutes. It needs to be properly fitted to work properly however. A life vest that is too large will not hold you up properly to do you the best good.
The chances of drowning reduce significantly when you wear a properly fitted safety vest.
Do not Drink and Boat
This doesn't mean that just the driver should avoid it. Passengers should reconsider taking a drink as well. Aside from the obvious affects it has on your vision, orientation and reaction time, drinking will also impair you when exposed to the harsh sun. Over exposure to the sun or heat can dehydrate you faster than you have time to realize. Too many people die every year because of the combination of drinking and overexposure. Save the drinking for a better time and place.
Get a Vessel Safety Check
The VSC offers free public checks of boats to ensure your craft is in proper working order. Get one regularly to ensure your boat is working at its best before you take it out for a day in the sun.