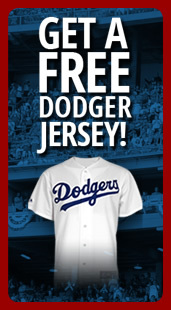 In celebration of the 50th anniversary of the Dodger Stadium, and the beginning of a new magic era full of excitement and hope, we're giving away an official MLB Dodger Jersey ($100 value!) if you purchase a new policy from us in the next two months, so don't delay – save money and get a free jersey!
You may already know you can often save 10%-15% by "packaging" your policies with us. These multi-policy discounts often apply to each policy, and that can add up to a big savings on your insurance bill.
Don't worry, you don't have combine your payments (unless you want to), so if you pay one monthly and the other yearly or via your mortgage payment, that's just fine.
We'll make the process easy and will even provide notification to your current carrier for you. If you've been procrastinating / waiting to move your auto, home, or condo, there is no better time than now!
Get a free quote for auto, home, condo, renters, and more to find out how much you could save!
Not only will you save on each policy, but you can get a great Dodger Jersey for yourself or for that special baseball fan in your life. But hurry! This offer is only valid for a limited time.
View the official rules for this offer